Dyna-Purge® E2 delivers consistent and reliable purging results for Fam-Lee.
"I cannot emphasize enough how important the time-savings are to a hands-on, small business like ours," said Edward Popke, President of Fam-Lee Products, Inc. Mr. Popke was describing the benefits of New Dyna-Purge® E2 as experienced by his injection molding company during a sampling of the new compound.
Situation
As the name suggests, Fam-Lee is a family-owned business that produces a variety of parts including non-invasive medical components, tube connectors and other devices. Located in Loveland, CO, Fam-Lee runs a variety of resins including Nylon 66, polycarbonate and high-heat resistant polycarbonate, among others. Fam-Lee purges as much as 5 to10 times daily. Mr. Popke noted their biggest purging challenges include changing from black or colored nylon to a lower temperature material such as white ABS.
Solution
Fam-Lee sampled New Dyna-Purge® E2, a unique integrated polymer system, and conducted trials on three challenging color changes. Fam-Lee Products has used Dyna-Purge® products for more than a decade, resulting in thousands of dollars in savings according to company President, Edward Popke. "Dyna-Purge products have always performed well for us, but the new E2 is even more impressive," he concludes. "It clears any carbon build-up quicker, especially during weekend shutdowns. Every minute not spent on extra purging or screw/barrel maintenance is an important savings — not just money, but precious time!" New Dyna-Purge® E2 was developed as part of the company's continuous product innovation program.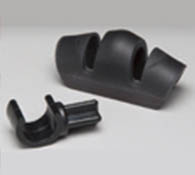 Resin: Black to Clear Polycarbonate Results: Consistently used up to 33% less purging material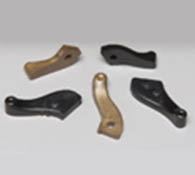 Resin: Black to Gold Polycarbonate Results: Consistently used up to 33% less purging material