Webinar Series
Check out our webinars for the latest innovations and information sponsored by Dyna-Purge!

  Join Andy Routsis, President of Routsis Training, as he demystifies Scientific Molding and explains why it is an integral part to the future of the injection molding industry.  You will understand that there is an easy to follow scientific system behind building a reliable molding process.  Andy will explain proven strategies behind implementing such a system in any molding facility. In this webinar, you'll discover:
The Principles behind Scientific Molding
5 Challenges Molders Face during Implementation
How to get All Your Employees to use Scientific Molding (Yes, all your technicians can participate)
The 7 Steps to Effective Scientific Troubleshooting (The Quick & Confident Way)
Industry Best Methods for Teaching Scientific Molding Skills to Your Technicians

  As most processors know, scrap rates can make or break the profitability on any given job. Fortunately, scrap rates are largely under the control of the processor, which means scrap rates can be dramatically reduced. Some of the fixes are quick temporary fixes, others are long-term fixes that involve changing the way the processor approaches every new job. Both fixes should be available in your "toolbox" when the need arises. At the end of the Webinar you should have a basic framework for how to approach your scrap rates and how to set up systems that assure minimal scrap rates in the future.
"From the Boardroom to the Shop Floor: Answers to your top questions."
We asked our customers, "What are the biggest challenges confronting your business today?" The majority of responses led to our announcing a four-part webinar series, "From the Boardroom to the Shop Floor: Answers to your top questions." We assembled the best speakers in their respective categories and welcome you to view these webinars.
Cleaning Up The Problem
What to do when experiencing color streaking, degradation and contamination. Nancy Mitchell, Technical Product Manager at Dyna-Purge®, wants you to stop purging and start planning. Nancy will share with you what the most common problems are for molders when purging and how proper planning is the key to success.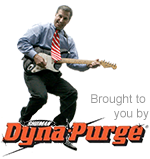 Surround Yourself with Success
How to find and keep the right people in the plastics industry! Presenter: Dr. Russ Riendeau View Webinar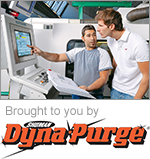 Making Permanent Sustainable Change Through Training
A better way to develop talented techs.   Presenter: Andy Routsis   View Webinar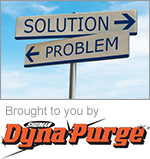 Proper Planning in Screw/Barrel Design Will Improve Profits
A better way to develop talented techs.   Presenter: Andy Routsis   View Webinar
"Everyday, thousands of loyal customers benefit from using Dyna-Purge. We will continue to provide you with the necessary tools to educate your team."
Dyna-Purge Products
Learn more about
the products we offer.
Dyna-Purge in the News
Check out our most recent article
in Plastics Technology
Free Sample
Choose any product and have it
shipped today!