Injection molder cuts machine downtime 10% with New & Improved Dyna-Purge® C.
Situation
Aircom Manufacturing in Indianapolis, IN is a diversified manufacturer offering a complete range of services from precision injection molding and cleanroom molding to  sheet metal fabrication and CNC machining. Aircom's injection molding operation utilizes 26 Van Dorn and Milacron conventional cold runner machines with screw sizes ranging from 1 oz. to 30 oz. to produce a variety of thermoplastic products. Aircom purges equipment during color to clear changes, using resins such as polycarbonate, nylon, ABS, polypropylene and TP magnetic material. They noted that among their more difficult purging applications is changing from opaque TP magnetic material to clear polycarbonate.
Solution
The operations manager at Aircom requested a sample of New & Improved Dyna-Purge C for testing and evaluation.
Results
Using New & Improved Dyna-Purge C reduced machine downtime by 10% per machine.
By using New & Improved Dyna-Purge C, Aircom also reduced the amount of resin needed to eliminate the purging compound by 25% for further cost savings.
New & Improved Dyna-Purge C also helped Aircom resolve contamination problems.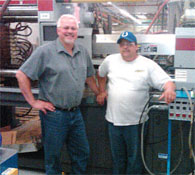 Aircom Manufacturing's injection molding operations include 26 conventional cold runner machines.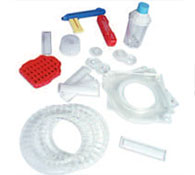 Aircom's challenge was to transition from TP magnetic material to clear PC.