Injection molder finds New & Improved Dyna-Purge® K speeds purging, reducing labor by up to 15%.
Situation
RF Industries Inc. designs, manufactures, and supplies wired and wireless solutions for the telecom and biomedical industries. With headquarters in San Diego, CA, the company's Bioconnect division produces cable & wire products for medical applications featuring Santoprene latex-free insulation. The division utilizes four conventional injection molding machines with 1-1/4″ screws in each. The barrel temperatures typically range from 420° to 430° F, and they mold a wide range of resins, including TPR, PVC, PE, PP, and nylon. Floyd Henry, Engineering Manager of the Bioconnect division, noted that the purging material they had been using did not always clean the machines the first time through. "We often purge from a nylon-6 colored material to a soft, semi-rigid vinyl which has much different temperatures and processing parameters," he explained. "The time required to re-purge the machines that did not come clean was becoming very costly — up to 4 times the cost! Purging the machines from 5 to 10 times per day, the material costs and added labor were beginning to add up," Floyd noted.
Solution
The facility switched to New & Improved Dyna-Purge® K and the problem was solved. With New & Improved Dyna-Purge® K, RF Industries averages 17% less purging compound needed to purge a machine, and it is clean the first time. In addition, the company realizes a savings of up to 15% in labor costs.
Lower Your Purging Costs
New & Improved Dyna-Purge® K's advanced formulation delivers a brighter, more powerful clean guaranteed to lower your purging costs. Two unique ingredients provide for a "dual power" cleaning experience. A non-melting but softening thermoplastic scrubs while a proprietary ingredient expands, removing contamination without any residue.
Advantages
Expands to clean hard to reach areas
Purges low-temperature resins ranging from 290° F – 550° F. (143° C – 287° C)
Cleans faster and flows easier than other purging products
Reduces scrap and reject rates
Lowers overall purging costs and boosts productivity
Safe and FDA-compliant ingredients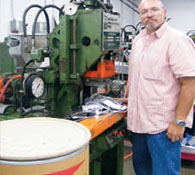 RF Industries has reduced labor by up to 15% using New & Improved Dyna-Purge® K.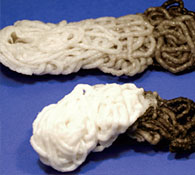 New & Improved Dyna-Purge® K delivers a brighter, more powerful clean without residue.