The Proof is in the Purging
(September, 2008; Reprinted from Injection Molding Magazine)
Independent, comparative testing of in-house resins against a commercial purging compound shows time and cost savings.– Kate Dixon
With the dramatic increase in material costs, it becomes more and more essential for molders to decrease scrap rates and machine downtime while molding contamination-free parts. Many have turned to purging compounds to clean out the machine for color changes or periodic preventive maintenance, while others use in-house resins.
But for Jim Shultz, quality manager at Diamond Polymers (Akron, OH), the numbers clearly show the winning choice. Shultz conducted trials on Feb. 7, 2008 testing Shuman Plastics' Dyna-Purge M, a mechanical, nonabrasive thermoplastic commercial purging compound, against four common in-house resins on the ability to purge a molding machine between color changes (see table).
A subsidiary of Network Polymers, Diamond is a full-service material supplier that also designs thermoplastic material for specific applications. Both companies are certified to ISO 9001:2000 quality standards, and Diamond's laboratory holds A2IA accreditation from the American Assn. for Laboratory Accreditation for Mechanical Testing.
For the study, Diamond Polymers tested four types of resins- PP, HDPE, PC, and ABS- against Dyna-Purge M. All trials were conducted on a Battenfeld BA600 66-ton injection machine. Prior to each trial, a white control part was molded for comparison purposes, and the same protocol was applied for each test.
To start, 100g of black resin was run in the machine, which was then purged until clean and natural in color. The amount of purge used was measured and recorded, as well as the time required to purge. Then a postpurge was performed with white resin until no purge was evident, with the time and amount of postpurge resin measured. Next, parts were produced until they were visibly comparable to the control part, with the weight and number of scrap parts recorded. Lastly, the parts and the purge were photographed for each test trial.
Purging Trials
Trial 1: Black PP to white PP, 12-melt Processing temperature: 420°F Trial 2: Black HDPE to white HDPE, 12-melt Processing temperature: 450°F Dyna-Purge M PP ($0.97/lb)* Dyna-Purge M HDPE ($0.91/lb)* Results Cost Results Cost Results Cost Results Cost Amt. of product required 200g $1.10 500g $1.07 200g $1.10 500g $1.00 Purging Time 50 seconds $1.06 105 seconds $2.22 54 seconds $1.14 107 seconds $2.26 Postpurging resin 47g $0.10 67g $0.14 46g $0.09 52g $0.10 Postpurge time 9 seconds $0.19 12 seconds $0.25 9 seconds $0.19 12 seconds $0.25 No. of scrap parts 0 – 20+ – 1 – 20+ – Time to good parts 0 seconds – 640 seconds $13.54 32 seconds $0.68 640 seconds $13.54 Weight of scrap parts 0g – 709.6g $1.53 37g $0.07 729.5g $1.46 Total cost to purge $2.45 $18.75** $3.27 $18.61** Trial 3: Black PC to white PC, 14-melt Processing temperature: 530°F Trial 4: Black ABS to white ABS, 10-melt Processing temperature: 480°F Dyna-Purge M PC ($1.76/lb)* Dyna-Purge M ABS ($1.01/lb)* Results Cost Results Cost Results Cost Results Cost Amt. of product required 400g $2.20 1400g $5.45 300g $1.65 3250g $7.24 Purging Time 103 seconds $2.18 324 seconds $6.86 71 seconds $1.50 710 seconds $15.03 Postpurging resin 61g $0.24 81g $0.32 79g $0.18 81g $0.18 Postpurge time 9 seconds $0.19 12 seconds $0.25 12 seconds $0.25 13 seconds $0.28 No. of scrap parts 4 – 20+ – 14 – 20+ – Time to good parts 128 seconds $2.71 640 seconds $13.54 448 seconds $9.48 640 seconds $13.54 Weight of scrap parts 184.4g $0.72 930.8g $3.62 662.1g $1.47 836.1g $1.86 Total cost to purge $8.24 $30.04** $14.53 $38.13**
*Prices are from Plastics News, February 2008
**There was still contamination after 20 molded parts.
Data: Machine downtime, $76.19/hr. (Plastics Technology, 2008)[Dyna-Purge M, $2.50/lb.] Time to make one good part, 32 seconds (Diamond Polymers control part)
The results are in
Since the in-house resins are not formulated to clean the machine, they required five to 10 times more resin to attempt to displace the resident material than a commercial purging compound. The results of this study concluded that Dyna-Purge lowered purging cost by 62% compared to purging with ABS, 73% vs purging with PC, 82% lower than HDPE, and 87% vs purging with PP. Aside from the cost savings, other results included a reduced amount of scrap from rejected parts, minimal machine downtime, and maximized production. When using a commercial product and following the manufacturer's purging procedure, it can lead to more consistent results that minimize the impact of material or operator variables, which can help a molding operation remain competitive during a time of high material and energy costs.
Medical molder saves with purging program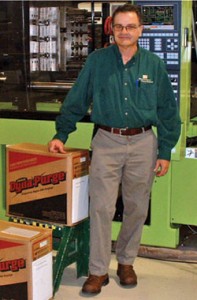 Brent Borgerson used his prior purging knowledge to create a program for Matrix Tooling that resulted in 68% cost reduction. Medical molder saves with purging program Brent Borgerson knows all about the benefits of purging compounds. This senior process engineer at Matrix Tooling Inc. (Wood Dale, IL), a custom molder and moldmaker for the medical industry, initiated a switch from purging with in-house resins to Dyna-Purge about five years ago, and started to quantify the effects about two years ago- revealing some drastic results.
Before the switch, Matrix was experiencing unfavorable scrap rates and rejections due to material or color contamination from the purging process, which took place an average of six times daily. Labor and material costs from purging were calculated at $35.25 per purge, so alternative methods were investigated on a 28-ton Arburg with a screw size of 18 mm and barrel temperatures ranging from 380-600° F using a cold runner system. Borgerson previously had done a study while working for Portola Packaging in Mexico, a cap and closure manufacturer performing 10-20 color changes per day. By following a new color change program using Dyna-Purge, the company was seeing savings of $10,000/day. He decided to try Dyna-Purge M at Matrix to see what the results would be.
The reject rate improved dramatically, and the average cost per purge was calculated at $11.13, a 68% improvement. This represents an annual savings of $41,000, with a reduction in purging time of 75%.
Matrix has also found benefits in some of the other Dyna-Purge products, using the P grade in hot runner manifolds and the E grade when going from one high-heat material to another. "We don't break screws and tips since we've gone to a disciplined, structured purging program. We'll go from running polyetherimide (PEI) at temperatures around 700°F to a material at 320°F," says Borgerson.